11 Decor ideas to steal from Celebrity Homes
A home is where the heart is. These heart-felt touches ensure that these 11 celebrities wait to return home each and every day:
Jennifer Law
Best known as Katniss Everdeen from The Hunger Games
Jennifer's multi-million dollar mansion houses a gourmet kitchen that everyone who loves to cook will drool over. Apart from the restaurant-grade stovetop, ovens and island, the breakfast nook will put you in the mood for breakfast at any time of the day.
Meg Ryan

Best known as Sally from When Harry Met Sally.
Meg likes to keep her home clutter-free. The bedroom in her home on Martha's Vineyard essays this with white walls, a single piece of art and an old dresser. Don't miss the two simple trays on the end-of-bed trunk that work as sophisticated clutter catchalls.

Jennifer Aniston

Best known as Rachel from Friends
Jennifer's living room is all about opulence and indulgence. The rich colours and lush textures come together to create a luxurious look. Who wouldn't want to sink into those velvet armchairs?

Kim Kardashian

Best known as Kim from Keeping Up with the Kardashians
Kim's home features a closet that no woman will be able to resist. It's dark and inky, setting the perfect stage to make your clothes pop. Colours, patterns, fabrics, they all look better.

Drew Barrymore

Best known as Dylan Sanders from Charlie's Angels
Drew Barrymore nails the retro kitchen by mixing together two unusual colours – a shade of green and a hue of blue. The collection of white dishes pops on the green walls, the white accents create a cohesive look while the wooden tones create a feeling of tranquility.

Sarah Jessica Parker

Best known as Carrie Bradshaw from SATC.
A pendant light above the dining table is old hat; Sarah gives it a brand new twist by going in for a series of pendants that come together to create a lighting fixture that's part chandelier, part art.

Taylor Swift

Best known for Our Song and Fearless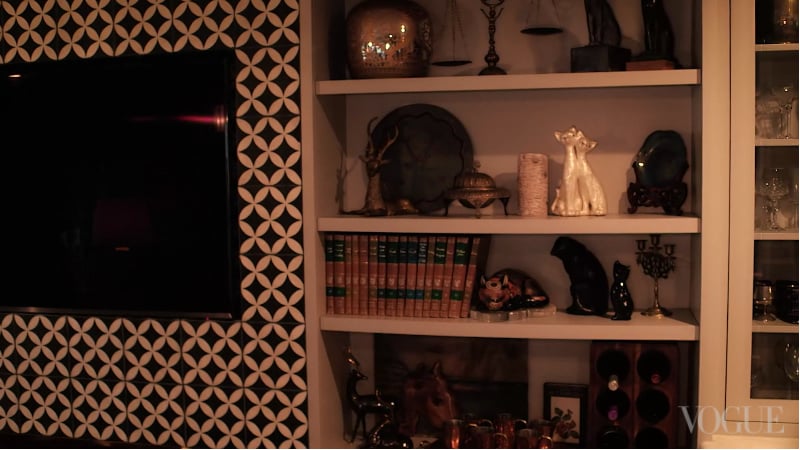 The American singer loves her home to showcase her loves. The living room displays her love for cats fondly – there are over 10 of them in various forms

Naomi Watts

Best known as Maria Benett from The Impossible
The Brit-born Oscar nominee creates a living room that's large, airy and full of life. The mix of colours and textures creates space "for the kids to grow—and for all of us".

Lauren Conrad

Best known as Lauren from Laguna Beach: The Real Orange County
The American TV personality, designer and author has put together a stunning living room by emphasising her double-height space with vertical elements. The huge fiddle leaf fig tree, the aartsy chandelier and tall mirror leaning on the mantle draw the eye up.

Christina Applegate

Best known as Kelly Bundy from Married... with Children
The American actress and dancer creates a cozy dining nook that screams family. The tufted banquette invites you to linger and chat over meals while the artwork by her daughter adds cheer.

Diane Keaton
Best known as Annie from Annie Hall
We love what this Academy Award-winning actress has done in the kitchen of her Beverly Hills home. Her colour-wise grouping of dinnerware on open shelves has made functional items into a work of art.

(All images copyright of their respective owners. No infringement intended)

YOU MAY ALSO LIKE TO READ